A Thousand and one Knights
Posted on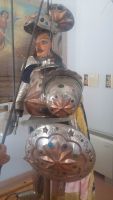 Volcanoes and mafiosi - the go-to Sicilian stereotypes! But knights in shining armour? Battles with mere-wyverns, duels in the woods and courtly gatherings in stripy tents? I've never seen so many knights in one place! Granted, they're carved into the niches of churches, or painted on alley walls, chiselled and daubed all over Sicily's towns, brandishing tin swords with strings and metal rods gouged through their limbs. As far as Sicilian iconography goes, they're ubiquitous.
In the coastal town of Capo d'Orlando (named after a Carolingian knight who's the subject of a famous epic poem), I saw a pick-up truck parked in an alley, its bodywork covered in scenes of battling knights. There was Saint George (patron saint of knights, as well as the English!), impaling his dragon, Saracens in crescent-tipped turbans, cavaliers on white and red chargers, turreted castles on craggy blue hills. It was a modern up-date of the old painted horse-carts that used to trundle along the mule-tracks and byways of Sicily (they are one of the first sights noticed by Michael Corleone when he returns to Palermo in Mario Puzo's Godfather sequel, 'The Sicilian'), dazzling admirers with their colourful scenes.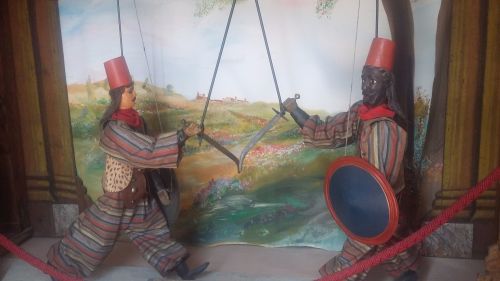 The Sicilian passion for chivalric tales is best discovered in their 'opera dei pupi', puppet shows still played in several corners of the island. During my time in Sicily, I met half a dozen puppeteers, and heard many different explanations for their enduring art - which was established as entertainment not for children but for 'the poor'. 'The tales of the knights, this is Sicily,' one storyteller told me, framed in prototypes of puppets and theatrical backdrops. And they aren't so far away from those other Sicilian stereotypes - the mafiosi and the volcanoes. One of the most popular knights, Reynald, is nicknamed 'mafiosi'; you can still see the hilt of a 13th century assassin's sword on the door of the Archbishop's Palace in Palermo, a reminder that Cosa Nostra had plenty of precedents to take their inspiration from. As for the volcano - well, it's the wild unlikeliness of Sicily's landscape that, according to one local storyteller, has made it 'the island of myths', a place where anything can happen. Persephone can be abducted by Hades, the Cyclops can hurl his rocks at Odysseus, Merlin and King Arthur can roam here, and Roland can fight off an army of Moors. It's a land of stories, with many still to come. Meeting some of the Sicilian storytellers has been a thrill - and I'll be writing all about them in my new book.